OUR SERVICES
Darmani Adjusters & Investigators offers comprehensive, integrated claims services, business process outsourcing and consulting services for major product lines, including:
Our services include
Motor vehicle damage inspection and assessment
Personalized claim investigation
Liability Loss Adjusting
Indemnity Loss Adjusting
Major and Complex Loss Services
Medical claims and life insurance claim investigation
Fraud Investigation
Risk and hazard assessment
OUR EXPERTISE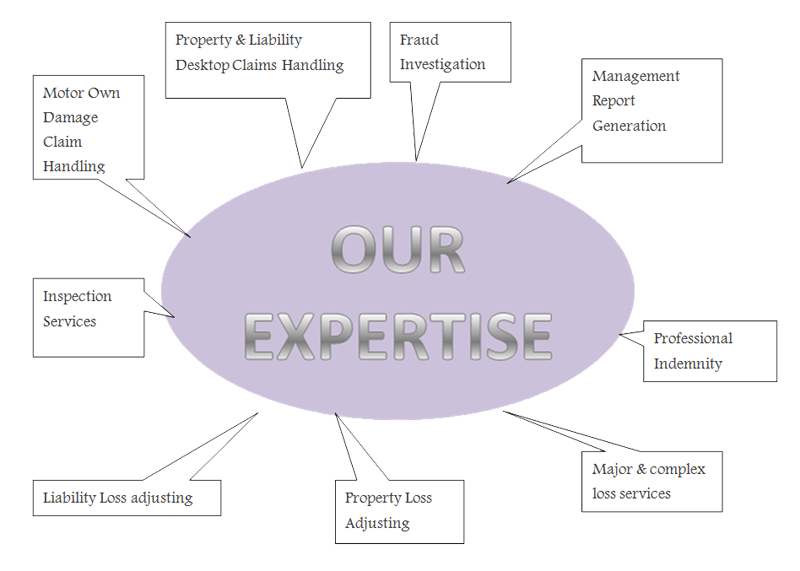 OUR ADVANTAGES
Qualified adjusters to face qualified people in various fields on behalf of our Principals.
Qualified and experienced specialists in insurance related claims.
Appropriate experts are used to ensure that the most accurate results are obtained.
Technically correct adjustments, with practical problem solving philosophy
Fast and effective results.
Efficient Customer Support service.
When required free consultation will be provided in this field.
OUR VALUE ADDED SERVICES
We provide exclusive training for our Clients on loss adjusting survey matters, detection of fraud in Medical and bodily injury claims.
Regular liaison with Police/Local Authorities for recovery in motor related losses.
Checking into venues for exercising of subrogation rights.
OUR STRENGTH
Professionalism
Dedicated to long-term partnerships
Consistency in maintaining excellence
Committed to compliance
OUR TEAM
We in Darmani Adjusters & Investigators have a professional, experienced and dedicated team of Directors, Managers and insurance loss adjusting experts. We understand our clients' need to be selective, but not restricted in the selection of their business partners.
Our position as professional insurance loss adjusting specialists in Malaysia, coupled with our ability to access the local market, sets us apart. That's because we have a reputation for delivering what our clients need in a way that is right for them.
We approach every opportunity with equal vigour and an open mind; this focus enables us to deliver the results that our clients expect.
OUR ASSURANCES
Guaranteed turn-around time.
Weekly progress reports.
Comprehensive and Impartial reports.
Claim consultation services will be provided as required